A recent visit to Santa Fe reminded me of one of Dr. Haffner's most impressive cases. A case that set the tone for me in my understanding of how our brain could recover contrary to what I was brought up in Neurology at Queen Square.

It was our first visit to Santa Fe in New Mexico which arguably had some of the famous places that has been used in an impressive number of films. Ghost Range, White Sands and Bandelier came to mind and of course there is Alamos, home of the Atomic Bomb that eventually finished off the Japanese and their atrocity especially in China. Yet it is often as exciting to visit the local market on a Saturday as it is to visit famous sites. We get to see some fresh local produce that local farmers are very proud of. Quite unexpectedly something caught my attention at one of the stalls that reminded me of Christopher Haffner.

Everybody is afraid of Dr. Haffner at the Regional Child Psychiatric Clinic. O.K. He is tall and quite formidable. He still carries a strong Austrian accent. But he never shouts and he speaks very gently. Perhaps it is because he seemed to know a good deal both within and without the medical field. As a chief, he is unusual in knowing most things that people get up to. One day, I was late with a family and when I got back to the office, Dr. Haffner was there looking through a number of files by the filing cabinets. It was then that I knew how it was done. But I am not going to tell you if I pick up this little trick from him.

Secretly though, we do know that we must take note of his utterances as he would have thrown in some gems that would affect our thinking. Good teachers do throw in a new way of looking at things which may indeed be too obvious some times.

I later found out that he probably was one of the first to establish the three unusual in-patient units in one setting in the whole of Britain: a middle age group children's unit where I was mainly placed, a unit for Autistic children and unusually a mother and child unit. All the time I was there, I have not heard of another mother and child unit.

His take down of Eysenck and IQ test is the first shock I encountered and one of the side effects was years later when our girls were grown up, without prompting at all, they thanked me for never doing an IQ test on them. His most memorable example was how a very high IQ genius when asked to pick up 3 lbs of tomatoes would fail abysmally when a untested child that has helped father at a market would come very close to it.

One day he announced that he is going to do a special presentation. This is not something that happened often and when it did, we all make sure that we rearrange our appointments.

This was about two twins that were hardly six years old; identical twins. One day father was taking the younger twin to some activity. The parents always felt that it was important to bring them up separately although other parents of twins have the opposite view. Unfortunately they were involved in a very serious car accident. Both survived. The boy suffered fairly serious concussion and was unconscious for around ten days. He was eventually referred to Dr. Haffner.

The essence of his presentation was that he felt the brain can somehow recover and one advantage would be related to the young age of the patient. At the beginning, the boy could not remember who he was and there was hardly any speech. Mother decided to give up her teaching job to spend as much time with him. From Dr. Haffner's presentation, he has suggested that the parents should perhaps treat him as a new baby so that he can learn everything afresh. It was a difficult first few months and then suddenly everything progressed rapidly. Nine months after the accident: "I arranged for an IQ test and he is now within 10% of his brother!"

Wow!

"And IQ test does have its place!" He read my mind.



Back to Santa Fe Market:
There was a little table with a pile of books and a little picture: Climbing Back. A lady was behind the stall and she does not look like the usual market vegetable selling person. So I started chatting to her. She was promoting her book about her son's journey back to life after a very serious accident.
Her name is Elise Rosenhaupt and her book is called Climbing Back: A Family's Journey through Brain Injury[1].
It was about her son Martin, who at the start of his second year at Harvard, was hit by a car and thrown 150 feet. He landed on his head, suffering severe traumatic brain injury. So if anything it was much worse than Dr. Haffner's patient who was thrown about at the back of the car although not much was known about how badly hit he was. It was interesting to scan through her observation of the slow process of recovery, probably much slower than the much younger boy.
It is a nice confirmation of how much more we know about our brain and nervous system.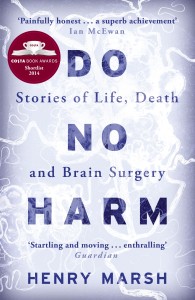 Do No Harm is a remarkably simple book. So much so, The Guardian (the book was short listed for The Guardian 'First Book Award') asks, 'Why has no one ever written a book like this before?' Each chapter's starting point is a real life case. The clinical and extra-curricular vignettes recited allow the reader the privilege of being a fly-on-the-wall during moments of incredible personal and professional strain, sometimes during frank disaster, and occasionally during enormous relief and hilarity. In total, the book makes up a lean, unadorned, honest memoir of just some of the emotional thrills and surgical spills from a life spent in a busy tertiary neurosurgical unit. There is no twisting, confluent, fictional, engineered storyline because the quotidian of Marsh's operating theatres, clinic rooms and foreign trips provides a surplus of heroes and heartache to sate the appetite of even the most demanding reader, publisher or dramaturge.
Link: https://blogs.bmj.com/medical-humanities/2015/02/10/the-reading-room-a-review-of-henry-marshs-do-no-harm/
When I was training in
London
in the 70s, I spent some time at
Queen Square
. Those in the know will recognize it as the place for neurology this side of the
Atlantic
. It was drilled into us then that sadly we were given a number of brain cells when we were born and it was all downhill from then on or something to that effect. It was well known that neurologists were great diagnosticians but for most neurological conditions, not much could be done. How depressing indeed. Even as recently as four weeks ago, I heard a young doctor told his father that there was nothing he could do with his brain cells. One is given so many at birth and no more can be expected. Lord Brain (1895-1966) would have been so proud.
Yet it was also
London
that shook the world with new discoveries about the brain, and the study was on the most unlikely group of people: Taxi drivers. Their
"KNOWLEDGE"
was the basis of our knowledge on brain plasticity today. The "KNOWLEDGE" is a term officially used to describe the test the Taxi Drivers had to take to get the licence to drive Taxis in
London
. Streets in
London
have evolved over time and are not on any grid system at all. Early postmortem examinations led some pathologists to note the small size of the Taxi drivers' frontal lobes. Yet actual weight measurement showed that size was all relative. It was the enlarged hippocampal region that created that impression. Later work using
modern scanning techniques
confirmed the early impressions.
If two to four years of "KNOWLEDGE" acquisition can change the size of the brain in a grown adult, what else could we do?
The rest, as they say, is history.
The book covers the changes to the brains of musicians and medical students. It tells us that just three months of memory work can have noticeable effect on the brain of medical students, and music memory work has similar impact on musicians. I was pleased to learn that Bilingualism helps too. From infancy, I and my siblings were brought up with speaking two Chinese dialects at home.
Will medical schools that have abandoned traditional teachings please bring back Anatomy-the old way?
Did the 300,000 or so that took up
piano
this year in
China
know a thing or two about brain plasticity? Currently 30 million children are reported to be learning the piano in
China
.
As a child psychiatrist, I find the ones on ADHD showed great promise but I doubt if we are ever going to see the end of the stimulants' hold on the condition in the West. It is interesting to note that Stimulants never took off in China, a country with a fifth of the world's population. Computer games, on the other hand, have really taken off there.